Zimbabwean farmer assaulted badly by "The War Veterans"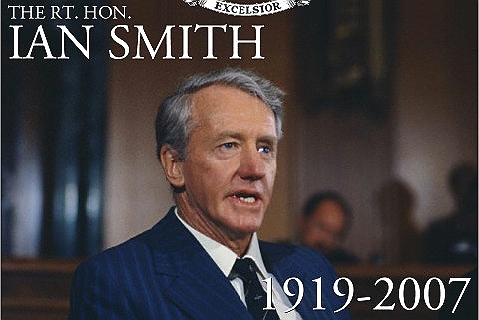 Ian Smith - Former Prime Minister of Rhodesia
Family and early life Ian Smith was born in Selukwe, now known as Shurugwi, a small mining and farming town located approximately 300 kilometres (190 mi) southwest of the capital Salisbury, now known as Harare. He was the family's youngest child, with two older sisters,... Phyllis and Joan. His father, John Douglas Smith (also known as "Jock"), had emigrated from Hamilton, Scotland in 1898 in search of gold, but instead became a farmer, butcher, baker, garage owner and gold mine operator.
His father married Agnes Hodson, a native of Rhodesia, in 1911. Ian Smith considered his father "a man of extremely strong principles" and "one of the fairest men I have ever met and that is the way he brought me up."After receiving his primary education at a local school in Selukwe, Smith enrolled at the Chaplin School in nearby Gwelo for his secondary studies. In his final year at Chaplin, Smith was head prefect, recipient of the Victor Ludorum in sports, and captain of the school's rugby, cricket and tennis teams. Smith later remarked, "I was an absolute lunatic about sport. I concede, looking back, that I should have devoted much more time to my school work and less to sport." Smith enrolled at Rhodes University in Grahamstown, South Africa in 1938, where he began coursework towards a Bachelor of Commerce degree.
Smith interrupted his studies during World War II and joined the Southern Rhodesia Air Force. After completing his flight training, he was seconded to the rank of Pilot Officer in the Royal Air Force. He served with distinction in the Royal Air Force at the RAF station in Pembrey, Wales. On 4 October 1943, his Hawker Hurricane plane crashed on take-off from Alexandria, Egypt due to a throttle malfunction. His harness, which was built to withstand a stress of nearly one tonne, snapped and his face rammed against the Hurricane's instrument panel. He sustained severe facial injuries and broke his jaw, a leg and a shoulder and also buckled his back. Six months after undergoing extensive plastic surgery at the 15th Scottish Hospital in Cairo, he returned to active service with the No. 237 Squadron RAF in Corsica. In July 1944 German anti-aircraft fire shot down Smith's Supermarine Spitfire over the Po Valley during a strafing attack on German ground forces. He parachuted safely from his aircraft, landing behind enemy lines in the Ligurian Alps. Italian partisan and French resistance groups gave him refuge. After assisting in the planning of bomb raids against Germans for nearly five months, Smith and three other Allied soldiers embarked on a 23-day hike through occupied Italy and Maritime Alps to reach Allied lines. After being repatriated to Britain, he served with the No. 130 Squadron RAF until the end of the war.
Smith returned to civilian life and obtained his Bachelor of Commerce degree at Rhodes, where he was also elected chairman of the students' representative council. After college, he bought a farm in Selukwe, later expanding it into a 21,500-acre (87 km2) estate. Regarding his decision to start farming, Smith remarked, "[c]ommerce and economics are associated with mathematics. Math was one of my better subjects. Economics is one of the most important aspects of farming and so I decided to farm. It was as simple as that." Smith married Janet Watt (d. 1994), a widowed South African schoolteacher, in 1948 and had one child, Alec, whom he raised with his wife's two children, Robert and Jean, from her earlier marriage to South African rugby player Piet Duvenage. He remained on close terms with his son Alec despite having major disagreements with him on a number of political issues. Alec deserted from the Rhodesian army while serving as a conscript in the 1970s and went to Europe. There he married Elisabeth Knudsen, a Norwegian national, by whom he had three children: one son and two daughters.
Alec was a staunch supporter of majority rule in Rhodesia and South Africa and became an outspoken critic of the white regime's discrimination against the majority black population. Alec died on 19 January 2006 of a heart attack at London Heathrow Airport. Smith's stepdaughter Jean married Rhodesian folk singer Clem Tholet in 1967. Tholet was famous for songs such as Vagabond Gun and Rhodesians Never Die. Tholet died on 6 October 2004 at age 56. Political background Smith became active in politics when he successfully ran as a candidate for the right-wing Southern Rhodesia Liberal Party in the 1948 general election for a seat representing the Selukwe district in the Legislative Assembly. He was initially reluctant to stand due to his youth and the fact that he was establishing a farm. Indeed, he was the youngest MP in the history of the Southern Rhodesian Parliament. In 1953, he supported federation of Southern Rhodesia with Northern Rhodesia and Nyasaland and joined the United Federal Party set up by Prime Minister Godfrey Huggins.
In the federal general election he was elected as Federal Party member for Midlands, and therefore stood down from his seat in the Southern Rhodesian legislature. From 1958, Smith served as Chief Whip for the United Federal Party in the Federal Assembly,[11] but grew increasingly disillusioned with the party and the new Prime Minister Sir Roy Welensky. At a UFP congress in 1961, Smith publicly denounced the party's platform on Southern Rhodesia constitutional proposals. He opposed the proposals on the basis that they would usher in racial discrimination to the Constitution. He explained: "Our policy in the past has always been that we would have a government, in Rhodesia, based on merit and that people wouldn't worry whether you were Black or whether you were White." He believed that the proposal granting 15 out of the 65 parliamentary seats to black Rhodesians were in direct contrast with the principles of the UFP. In early 1962, he resigned as the UFP whip[ and formed a breakaway party called the Rhodesia Reform Party (RRP). After a few months, the RRP merged with the Dominion Party, another party against black majority rule in Southern Rhodesia, to form the Rhodesian Front (RF). Rhodesian Front Smith was re-elected to Parliament as an RF member for Umzingwane in the 1962 general election, in which the RF won a slim majority and formed a government.
He became Deputy Prime Minister and Minister of the Treasury under Prime Minister Winston Field.[11] Field's failure to secure independence from Britain upon dissolution of the Federation of Rhodesia and Nyasaland in 1963 left many dissatisfied with his leadership, leading Smith to depose him as Prime Minister on 13 April 1964. After taking office, Smith announced his proposed policies in full page advertisements in Rhodesian newspapers: "No forced integration. No lowering of standards. No abdication of responsible government. No repeal of the Land Appropriation Act. No appeasement to suit the Afro-Asian bloc."He was staunchly opposed to the British government's insistence (see NIBMAR) that Rhodesia introduce majority rule before independence. Three days after becoming Prime Minister, Smith announced there would be no plans to bring Rhodesia under "black majority rule" in his lifetime,[14] later adding "or [in my] children's [lifetime]". Smith later maintained in his memoirs that he was referring to black rule as it was in other African countries such as Ghana, Uganda, Tanzania and Nigeria, however a recording was played on the BBC World Service (on the day of his death) of Smith saying: "I don't believe in black majority rule ever in Rhodesia, not in a thousand years." Instead, he believed in "parity" or "partnership", which meant that eventually the black and white communities would have equal seats and power regardless of numbers.
White minority rule originated in property and education qualifications for voting that were in place when the British government introduced self-government in 1923. Such qualifications were unexceptional by the standards of the 1920s, and, although slightly modified over the years, they ensured a situation up to 1979 in which whites had 95% of the votes in national elections, while they were never more than 5% of the population. Smith and other white politicians argued there was nothing fundamentally racist about the electoral system in Rhodesia. They stated that improvements in black education and wealth would, over time, ensure a gradual move to majority rule. However, critics argued that the whole political arrangement in Rhodesia was intended to entrench economic and political privilege for whites. During the mid-1950s, a black nationalist movement emerged in Rhodesia. The early political parties were banned before the Rhodesian Front assumed power. They reemerged in the form of two main parties, the Zimbabwe African National Union (ZANU) and the Zimbabwe African People's Union (ZAPU), which espoused an increasingly militant nationalism. ZANU came to be led by Robert Mugabe and drew on a largely Shona speaking support base, while Joshua Nkomo led ZAPU, supported primarily by the Sindebele speaking minority.
Very soon after he became Prime Minister, Smith imprisoned the entire leadership of the black nationalist movement and officers of the Peoples Caretaker Concil, resulting in the widespread rioting in Salisbury and the arrest of 250 black Rhodesians.[14] In his autobiography, Smith said he opposed ZANU and ZAPU because of their Communist ideology. It was not until the 1970s, however, that the parties adopted Marxist ideology.[citation needed] The banning of successive nationalist parties from August 1959 to August 1964 hastened their radicalisation and provided the impetus for civil war. UDI and its aftermath During the early 1960s most of the British government's African colonies won independence. Rhodesia also sought independence, but the British government would only consider independence with majority rule. The Rhodesian cabinet issued a Unilateral Declaration of Independence (UDI) on 11 November 1965 anyway, attracting widespread international condemnation and the first instance of economic sanctions in the history of the United Nations, led by Britain and the OAU. The government of South Africa, while privately sympathetic and supportive of the Smith administration, did not grant recognition. Ian Smith defies the international community, 1975 The UN sanctions implemented restrictions on any form of trade or financial transaction with Rhodesia. They also made it difficult for Rhodesians to travel abroad.
The Norwegian government angered Smith when it refused to allow him to attend the 1979 wedding in Norway of his son Alec. In the short term, Rhodesia was able to evade sanctions with the assistance of a few sympathetic governments and some 'sanction-busting' private companies. A number of white Rhodesians were uneasy about UDI. The business community was particularly concerned about the resultant economic dislocation and loss of markets. The Rhodesian Council of Churches became increasingly opposed to UDI on moral grounds. In the three years after UDI, there were two rounds of negotiations between the Rhodesian and British governments. The issue was the terms on which UDI could be ended and the position of Rhodesia regularized within the international community. The central figures in both these negotiations were Smith and British Prime Minister Harold Wilson. The first round of negotiations was held in Gibraltar in December 1966 on board HMS Tiger. The terms the British offered on this occasion were that Smith's government should resign, allowing the British governor to appoint a "broad-based" government with an RF majority, but with five non-RF members of whom two would be black. The existing 1961 constitution would be modified to accelerate the expansion of black representation leading to majority rule in the near term. This offer was dismissed by Smith, who viewed it as terms for surrender. A second round of negotiations took place on board HMS Fearless in October 1968. The terms offered on HMS Tiger were moderated by dropping the need for an interim return to British rule.
However, the requirement for the installation of a broad-based government and an accelerated move to majority rule remained. Smith dismissed this offer as well. Smith's perceived unconditional support from the South African government was critical to his decision not to agree to the deal. In 1969 Smith unveiled the new republican constitution for Rhodesia. The architects of UDI offered "equal partnership between black and white" as an alternative to majority rule. Whites and blacks would vote in general elections on separate rolls and the number of assembly members elected by each roll would depend on the total income tax paid by each community. Initially, whites would have 50 assembly members and blacks 16. But it was planned that the number of black members would rise over time in line with growing contribution to the "fisc" until there were 50. At that point, equal partnership would have been achieved and a final settlement would have been arrived at. This was presented to the outside world as Smith's vision for the future of the country. However, Smith made comments indicating that his commitment to equal partnership was less than wholehearted. One journalist heard him say, "With immigration and so forth, this thing may never come." White immigration in the late 1960s had pushed the white share of the population to its all time peak of 5.5% in 1970. Smith indicated that a continuation of this trend might fundamentally shift the demographics of the country.
The Conservatives won the 1970 British general election and the new British government reopened negotiations with Smith. In 1971 the British government offered the Smith administration even more generous terms to end UDI. In particular, the Rhodesian land apportionment which reserved 50% of the country's land for white ownership would be allowed to continue in perpetuity. British Foreign Secretary Alec Douglas-Home privately warned Smith that it would be unwise to do this. The electoral system would be modified to allow black representation in the assembly to grow in line with voter numbers rather than contribution to the fisc and there would be no equal representation cap. However, education and wealth qualifications in the electoral roll would keep black representation very much in a minority for an extended period. Smith stated that this settlement allowed that "racial discrimination may continue as long as it is justifiable and reasonable" and he accepted it. The head of Rhodesia's Methodist Church called it a "constitutional rape of Africans by both the Rhodesian and British governments." The British withdrew the deal in 1972.
A few months later Marxist insurgents attacked white-owned farms leading to the Bush War. In October 1974 Prime Minister of South Africa B.J. Vorster launched his policy of "détente" with black Africa and began pushing Smith to end white minority rule. As a consequence he withdrew diplomatic support for the UDI regime which had become a major obstacle for Vorster's new policy. Vorster demanded that Smith release the black nationalist leaders in detention and Smith reluctantly gave in and released them. Then suddenly without warning, Vorster then proceeded to remove the contingent of South African police guarding the northern border against guerrilla incursions. This shocked Smith. One could expect this from the British, he said, but now with the South Africans, "there was obvious deceit". Vorster also severely limited the supply from South Africa of fuel, munitions and aircraft spares that were badly needed by the government in the Bush War and this consequently severely impeded the Rhodesian war effort. In 1976 US Secretary of State Henry Kissinger formulated what came to be known as a six-step "Kissinger Plan" (or "Kissinger Initiative") with the concurrence of the British government and the participation of South Africa's Vorster. Kissinger flew to South Africa and met with Smith and Vorster in Pretoria.
UK Prime Minister James Callaghan said the plan could end fighting in Rhodesia. Smith accepted the plan with reluctance, explaining, "The proposals which were put to us do not represent what in our view would have been the best solution for the Rhodesian problem. Regretfully, however, we were not able to make our views prevail.... The American and British governments, together with major Western powers, have made up their minds as to the kind of solution they wish to see in Rhodesia, and they are determined to bring it about." Throughout the 15 year period leading up to the independence of Zimbabwe, Ian Smith was given support in both the UK and US by various groups, including the Conservative Monday Club who organized pro-Rhodesia demonstrations outside number 10 Downing Street several times during the late 1970s, and provided Smith with a platform at several receptions and major dinners. The Club had a Rhodesia sub-committee chaired by Tory MP, Harold Soref. In December 1967 Barry Goldwater, Senator from Arizona and Republican candidate for the 1964 presidential election, praised Smith in an interview with Harvey Ward in Salisbury, saying, "We need more men like Ian Smith, I think, in the world today. We have too few leaders and I'd like to see him multiplied a little bit, and spread around."
However, groups from other positions on the Anglo-American political spectrum were opposed to the Smith regime. Peter Hain (the future Northern Ireland Secretary and Welsh Secretary in the British Government) was active, as a leading Young Liberal, in organising demonstrations and campaigns against Smith. US President Jimmy Carter and his Ambassador to the UN Andrew Young would become key figures in the ultimate demise of UDI. Having conceded the principle of immediate majority rule in 1976, Smith initially appeared reluctant to actually take the steps necessary to implement it. Smith conducted endless discussions with the US, British and South African governments as well as conducting secret and open talks with almost all the black nationalist parties. At one stage, the British appointed a governor-designate of Rhodesia (Michael Carver) in anticipation of an end to UDI. Opportunities to settle with moderate black leaders and the international community came and went. "Smith failed to take advantage of opportunities, and in so doing, he came to appear both intransigent and indecisive." –
Brookings Institution study on conflict management. Smith's intention was to secure the position of the white community in a post-independence Rhodesia through implementing majority rule with some qualifications. The practical result of this delay was that the military balance in the Bush War began to tip decisively in the insurgents' favour. Heavily armed guerrilla fighters entered Rhodesia in large numbers from bases in Mozambique, Zambia and Botswana. 80% of Rhodesian war casualties were incurred in the period January 1977 to December 1979. End of the UDI Rhodesia's isolation intensified once Mozambique became independent of Portuguese rule in 1975, and when South Africa started to scale back its support. The measures required to evade UN sanctions meant that the Rhodesian economy as a whole had to buy at a premium and sell at a discount. There had been almost nil inward investment during UDI. Eventually, Smith had to bow to the inevitable and concede a form of majority rule. However, he struggled to qualify the nature of majority rule. The "internal settlement" negotiated with some minor moderate black parties in 1978 left the white minority with an entrenched position. Whites were guaranteed nearly one-third of the seats in parliament, one quarter of the places in the cabinet and control of the police, army, civil service and judiciary. In 1979 the first multi-racial parliamentary elections (but with separate black and white rolls) were held as part of this settlement.
However, ZANU and ZAPU did not participate because they opposed the internal settlement. Following the 1979 election, Rhodesia was re-named Zimbabwe Rhodesia. Bishop Abel Muzorewa of the United African National Council party became the country's first and only black Prime Minister in June 1979. Smith became minister without portfolio in the new government after failing in a bid to be made Minister of Defence. War between the government and the insurgents continued. Sanctions continued and diplomatic recognition was not granted. The British Government persuaded all parties to come to Lancaster House under Lord Carrington in September 1979 to work out an agreement. A critical element in arriving at that agreement was the defection of one of the members of the RF delegation, much to Smith's disgust. A peculiar feature of both the internal and Lancaster House settlements was the retention of a significant number of parliamentary seats reserved for a white electorate. This reflected a wish among Rhodesian whites to maintain a distinct and separate status from the rest of the population. It was around this time that Smith used the phrase "Perfidious Albion," 'treacherous Britain', to refer to Great Britain and the sense of betrayal he felt from the British government.
One thing Smith did achieve in the Lancaster House Agreement was an agreement that no form of compulsory land redistribution would take place for at least 10 years after independence, securing the immediate position of the white farming community. The Agreement gave unconditional immunity from prosecution to all those who had participated in UDI and the Bush War. UDI ended and a British governor (Lord Soames) took over the running of Rhodesia on 12 December 1979. The Rhodesian Bush War ended and sanctions were lifted a few days later. 1980 election and independence Elections were held again in 1980 under international supervision. Smith hoped to retain a measure of white control over the government after this election by forming a coalition between his RF MPs and those of Muzorewa's UANC and Nkomo's ZAPU. But Zimbabwe African National Union - Patriotic Front (ZANU-PF) (led by Mugabe) won the election outright. Smith initially demanded that the election be declared null and void because of widespread intimidation of voters and candidates during the election campaign. However, international observers concluded that the election was fair, given the time and place in which it was conducted. It was widely considered that ZANU-PF won the election because it had no credible opponent among the majority Shona population. In his memoirs Smith expressed contempt for Abel Muzorewa.
The British Governor declared his intention to endorse the result of the election (with the final results due to be declared on 4 March 1980) and a date was set for the independence of the country as Zimbabwe. The situation was now delicately poised, with some whites planning a military coup (Operation Quartz) to prevent Robert Mugabe from taking power. At this point, Smith's son Alec (newly returned from political exile) approached Smith while Joram Kucherera (a senior civil servant) approached Mugabe in order to arrange a meeting to discuss the future of the country.On the night of 3 March 1980 Smith was driven to Mugabe's house by Kucherera. Smith and Mugabe spoke privately for two hours and immediately afterwards Smith met with other senior ZANU figures. The meetings were surprisingly cordial. Mugabe offered key Ministries in the new government to RF MPs and agreed to allow senior officials (such as Lieutenant-General Peter Walls, head of the army) to remain in post. As far as is known, no minutes of the Smith-Mugabe meeting were kept. Both parties have been guarded about what was said and agreed that night. On 4 March Smith advised the white community to accept the verdict of the election and respond "pragmatically" to events. Specifically, he told the white community to stay in the country and co-operate with the incoming ZANU-PF government. Operation Quartz, scheduled for 4 March, was abruptly called off.
A few weeks later, the co-operation agreement resulted in the Rhodesian army (with white officers) acting to maintain government control of Bulawayo in the face of an attack by ZIPRA dissidents. Later in 1980, Smith was a member of a delegation making presentations in Europe to international financial institutions regarding investment opportunities in Zimbabwe. The former Rhodesian security forces acted throughout 1980 and 1981 to maintain stability in the country. Smith contributed to the orderly manner in which the country moved to independence. Smith became official Leader of the Opposition in Parliament, as leader of the newly re-named Republican Front. But Smith insisted on keeping the RF as a whites only party. During the next five years, Smith's support among the white elite began to erode and 11 out of the 20 sitting white MPs defected to ZANU or became independents. In the 1985 election, Smith's RF managed to recapture 15 of the 20 reserved white parliamentary seats. As allowed by the independence constitution, Mugabe moved to abolish the reserved white seats. Smith retired to his farm in Shurugwi, his political career of 39 years over. Retirement After his retirement from active politics, Smith became an outspoken critic of Mugabe's government. Smith's autobiography, The Great Betrayal, is as much a criticism of Mugabe's governance as it is a memoir. Smith is also the author of Bitter Harvest. Both books received mixed reviews.
Long-term admirers of Smith had their view of him as a man of integrity confirmed. His critics saw in the books a stubborn refusal to acknowledge the need for any form of change and accused many, such as British Prime minister Harold Wilson of purposely trying to cause harm to Rhodesia. However, Smith's bitterness at his UDI government's isolation is a central theme. Unlike most of his contemporaries from the UDI era, such as P. K. van der Byl, Smith stayed in Zimbabwe and retired. His son Alec returned from Europe and became his business partner, taking over the running of the family farm. In 2001 police evicted activists who tried to occupy the Smith farm. Smith made a number of black friends and contributed regularly to both local and foreign media reports on current affairs. Those contributions became increasingly critical of his successor Robert Mugabe.
While out of the country in 2000, Smith described Mugabe as "mentally deranged." Mugabe responded by threatening to have Smith arrested and prosecuted for genocide should Smith ever return to Zimbabwe.Upon Smith's return, he was met by a mass of reporters waiting to witness him being arrested. Smith was greeted warmly by immigration officials at Harare airport and went home. He was neither arrested nor prosecuted. Shortly before his death, he was interviewed by journalist Heidi Holland who was working on a psychological and politics based book Dinner With Mugabe on Zimbabwean president Robert Mugabe. Chapter 7 I told you so is based on the journalist's encounter with the former Rhodesian premier.[32] Death In early 2005 Smith travelled to South Africa for medical treatment. In January 2006 his only son, Alec, died. Ian Smith was reported to have been devastated by the news and not to have recovered from it either mentally or physically. He stayed on to live with his widowed stepdaughter Jean in Cape Town, South Africa, where there is a significant Rhodesian expatriate community, until he died on 20 November 2007 at the age of 88. The cause of death was unknown but he had been reported to be in ill health in a residential home. Ian Smith lived an exemplary family life and in private was a down-to-earth, modest man. Ian Smith was not corrupt nor was he a megalomaniac. Ian Smith acted in what he thought were the best interests of then Rhodesia. The policies of his Rhodesia Front party radicalized black nationalists and directly spawned the violent and fascist rule of Zanu PF.
Rhodesian Light Infantry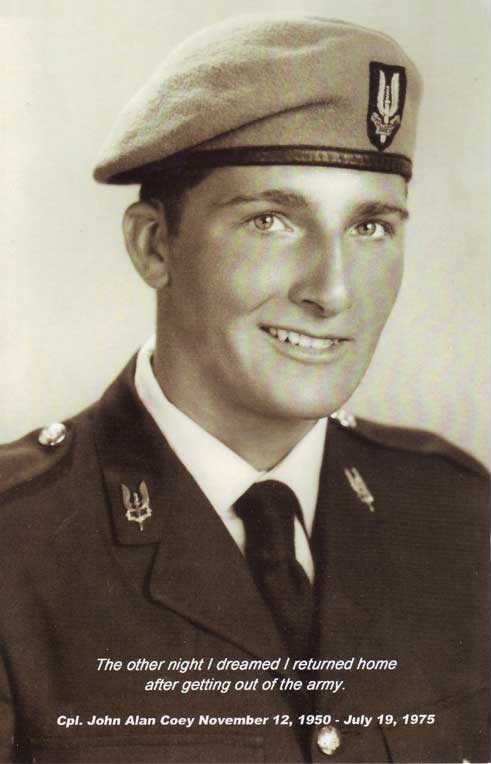 Corporal John Alan Coey would have been 57 years today, but died nearly 33 years ago on a remote Tribal Trust Land in Rhodesia, Africa at age 24. He was fighting, nearly toe to toe, with Chinese and Soviet trained communists who used midnight terror tactics attempting to convert tiny Pro-West Rhodesia into the Marxist State Zimbabwe is today. He fought hard, as I did, in this classic Cold War Chapter for three years and four months until the moment he was killed attempting to rescue a fallen comrade. I had a curious thought when Rich Byrne, who lost his uncle RLI Trooper Joseph Patrick Byrne, in the same war, asked me to say a few words as a fellow "Yank" combatant in that little understood – Rhodesian Bush War.
By a simple twist of fate it might have been John Alan Coey writing about me today instead of me about him. John Coey was the first of five Americans killed in action in that war and all were killed in the most blooded and bloodied of the regular Rhodesian Army units, The Rhodesian Light Infantry, known simply as the "RLI". This unit lost a total of 85 KIA (Killed In Action) which included not only John Coey, but another four "Yanks" as well: RLI Sgt. High P. McCall, Trooper Stephen M. Dwyer, Trooper Joseph Patrick Byrne, and Trooper Frank Battaglia.
John was a high achiever in school in a Columbus, Ohio suburb. He starred in track and quickly became an Eagle Scout. He received his degree in forestry from Ohio State University and immediately decamped to fight in the Rhodesian Army in March of 1973. "We never saw him again after he left," said his Mother, Phyllis Coey who now lives in West Liberty, Ohio and looks after her 101 year old mother. Phyllis is 81 and John wrote often telling of his trials and joys in a very tough army. She compiled his letters in a book called A Martyr Speaks. The cover photo shows John on patrol in Rhodesia carrying a US Flag, a very fitting symbol because all of us "Yanks" were certain we were also fighting to prevent Communism from one day engulfing the USA. We felt we were fighting 'Our Fight' for the preservation of The West. John's letters indicate he felt as I did. Part of a wonderful cause to preserve Western Civilization.
It was no accident that John's RLI was the most bloodied of all outfits. They saw combat on almost every deployment. When CTs (Communist Terrorists) were spotted about 20 RLI troopers would board a "jump" plane, fly to the combat zone, and literally parachute on top of the terrorists. Yes, these RLI Troopers were often being fired up at by the communist terrorists while descending in parachutes. But John also introduced a medical innovation to the RLI that saved lives, but ironically contributed to his own death. After years on combat duty Corporal Coey was trained as a combat medic and by RLI tradition he would have stayed back in base camp while his platoon was on patrol. But John prevailed upon the Colonel to permit combat medics to patrol with their regular units and he was the first. His mother claims her son's motives were two-fold. "He wanted to save lives and also to save souls if a soldier was mortally wounded." Corporal Coey was on patrol as a medic when he was killed while attempting to rescue a wounded comrade. He could have been sitting in base camp, waiting for casualties to be brought in. Phyllis had forged her son's Christian faith so strongly he never lost it. And John had a reputation as an overly serious soldier and sometimes got kidded about it. "I was told I take life too seriously." Coey wrote. "That doesn't make sense to me. I live life deliberately and with purpose." Fellow comrade-in-arms RLI Trooper Roger Buckley said this of John. "John was affectionately called 'Doc' by everyone in the RLI and was highly respected by all." Buckley also thinks Coey should have received a valour medal for bravery under fire on a number of occasions. As an American who also served I know John would have been very proud of his service. Of the relatively few "Yanks" who did serve in that war we were proud of our contribution in bringing down The Berlin Wall. John Alan Coey chipped away at that wall and his contribution is as noble and valid as that of any Korean, Vietnam, or any other Cold War veteran. Yes, John won his part of The Cold War and if our roles were reversed today, John would have said the same of me. Keeping that Pro-West Rhodesia alive against a communist onslaught from 1965-1979 was a cause worth dying for and John and I felt it then. I feel it still. A well spent John!
Capt. Joseph Columbus Smith, Ret. 1st Bn., Rhodesian African Rifles (Abn) (1976-79) Portland, Oregon.
Rhodesia was never beaten in battle, but was betrayed most specifically by the Jimmy Carter Administration- 1977-1980-which sacrificed Rhodesia on the altar of race politics in the USA. The Carter administration launched a huge spy operation against Rhodesia and worked tirelessly to install Marxist Robert Mugabe in the new Zimbabwe. Britain assisted. Those two big thumbs – on the communist side – were just enough.